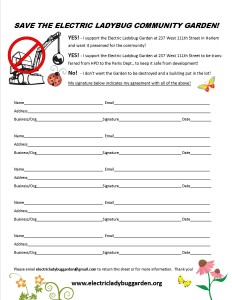 Click the image above or the link below for the PDF file for the petition.  Just download, print some copies, and get as many of your neighbors to sign as soon as possible!  When you are done (or if any questions), just email electricladybuggarden@gmail.com.  We can pick them up or arrange another way for you to get them to us.
Click here for the petition: SAVE THE GARDEN Petition
Another easy way to help and keep updated is to simply "LIKE" our Facebook page, and follow us on Twitter.  Click on the buttons below – it just takes a second to do!
https://www.facebook.com/ElectricLadybugGarden.org
https://twitter.com/ELadybugGarden
Thank you for your support!!!
John McBride, Yusuf Malik, Kenji Williams, Lawrence Terry, Linda Brown